The La Push, WA forecast has been added to your forecast favorite locations at the top menu bar.
SURF REPORT
RIGHT NOW
11:59pm PT
SECONDARY
SSW 0.0ft @ 14sec
FIRST BEACH, LA PUSH SURF CAM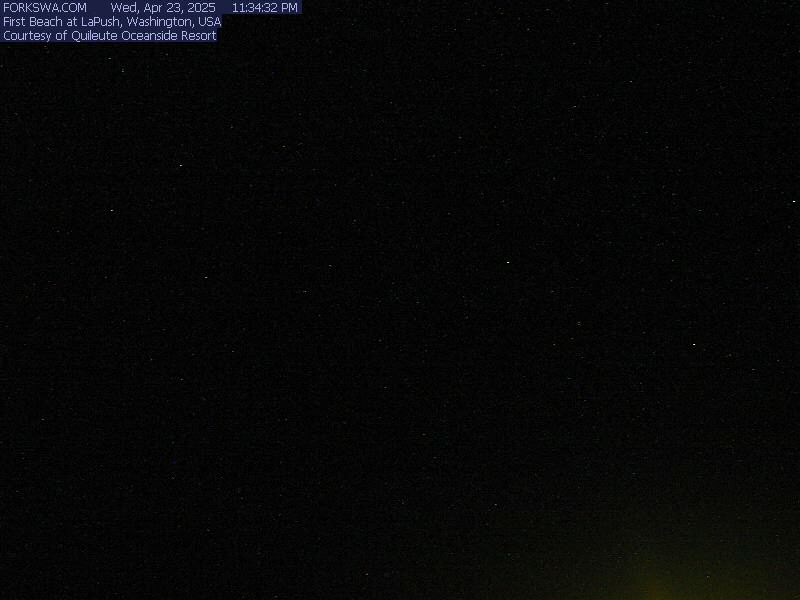 MONDAY'S FORECAST
SURF
Waist to chest high WNW wind swell with occasional shoulder high sets.
CONDITIONS
Semi glassy/semi bumpy in the morning with NNW winds 5-10mph. This becomes Bumpy/semi bumpy for the afternoon.
WEATHER
Foggy in the morning. High 68°. Low 53°.
TIDE AND DAYLIGHT TIMES
SURF FORECAST
SURF

Waist to chest high WNW wind swell with occasional shoulder high sets.

CONDITIONS

Semi glassy/semi bumpy in the morning with NNW winds 5-10mph. This becomes Bumpy/semi bumpy for the afternoon.

3 pm

WNW 4.2 ft @ 8 sec

W 1.4 ft @ 13 sec

6 pm

WNW 4.2 ft @ 8 sec

W 1.6 ft @ 12 sec

SURF

Waist to stomach high W ground swell.

CONDITIONS

Clean in the morning with ESE winds 5-10mph. Bumpy/choppy conditions for the afternoon with the winds shifting NNW 10-15mph.

6 am

W 2.6 ft @ 11 sec

WNW 3.1 ft @ 7 sec

9 am

W 2.5 ft @ 11 sec

WNW 2.9 ft @ 7 sec

12 pm

W 2.8 ft @ 10 sec

WNW 2.7 ft @ 7 sec

3 pm

W 2.3 ft @ 10 sec

WNW 2.5 ft @ 7 sec

6 pm

W 3.0 ft @ 11 sec

WNW 2.4 ft @ 7 sec

SURF

Waist to chest high medium period swell with occasional shoulder sets. The swell will be coming from the W in the morning and shift to the WNW during the day.

CONDITIONS

Semi glassy/semi bumpy with NNW winds less than 5mph in the morning shifting W 5-10mph in the afternoon.

6 am

W 2.9 ft @ 10 sec

WNW 2.4 ft @ 7 sec

6 pm

WNW 4.0 ft @ 8 sec

W 2.5 ft @ 10 sec

SURF

Waist to chest high WNW short period wind swell.

CONDITIONS

Bumpy/semi bumpy with WSW winds 5-10mph in the morning increasing to 10-15mph in the afternoon.

6 am

WNW 4.7 ft @ 7 sec

W 3.0 ft @ 9 sec

9 am

WNW 4.5 ft @ 7 sec

W 2.8 ft @ 9 sec

12 pm

WNW 4.3 ft @ 7 sec

W 2.6 ft @ 9 sec

3 pm

WNW 4.1 ft @ 7 sec

W 2.5 ft @ 10 sec

6 pm

WNW 3.9 ft @ 7 sec

W 2.3 ft @ 10 sec

SURF

Waist to chest high WNW short period wind swell.

CONDITIONS

Glassy in the morning with WNW winds less than 5mph. Bumpy/semi bumpy conditions for the afternoon as the winds increase to 5-10mph.

6 am

WNW 4.4 ft @ 7 sec

W 2.3 ft @ 9 sec

9 am

WNW 4.6 ft @ 7 sec

W 2.4 ft @ 9 sec

12 pm

WNW 4.4 ft @ 7 sec

W 2.4 ft @ 9 sec

3 pm

WNW 4.3 ft @ 7 sec

W 2.3 ft @ 9 sec

SURF

Knee to thigh high WNW wind swell in the morning builds in the afternoon with occasional sets up to stomach high.

CONDITIONS

Clean in the morning with ESE winds less than 5mph. Bumpy/semi bumpy conditions for the afternoon with the winds shifting W 5-10mph.

3 pm

WNW 3.5 ft @ 7 sec

WNW 0.5 ft @ 13 sec

6 pm

WNW 3.4 ft @ 7 sec

WNW 0.6 ft @ 13 sec

SURF

Waist to chest high WNW wind swell with occasional shoulder high sets.

CONDITIONS

Bumpy/semi bumpy with W winds 5-10mph in the morning increasing to 10-15mph in the afternoon.

6 am

WNW 4.8 ft @ 7 sec

SW 0.1 ft @ 13 sec

9 am

WNW 4.8 ft @ 7 sec

SW 0.2 ft @ 17 sec

12 pm

WNW 4.7 ft @ 7 sec

SW 0.2 ft @ 17 sec

3 pm

WNW 4.6 ft @ 8 sec

WNW 1.2 ft @ 11 sec
WX STATIONS
WAVE HEIGHTS
WAVE PERIODS
WINDS
OCEAN

TEMPERATURES

TEMPS
NAM

WIND

GFS

WIND

PRESSURE / WIND / PRECIP
PHOTOS