NOAA's Climate Predicion Center announced today that projected climate conditions point to a near normal or above normal hurricane season for 2008 in the Atlantic Basin.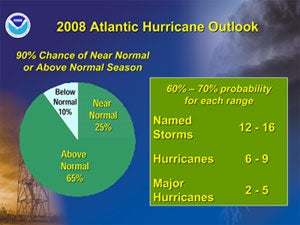 The Climate Prediction Center outlook calls for considerable activity with a 65 percent probability of an above normal season and a 25 percent probability of a near normal season. This means there is a 90 percent chance of a near or above normal season. The outlook indicates a 60 to 70 percent chance of 12 to 16 named storms, including 6 to 9 hurricanes and 2 to 5 major hurricanes (Category 3, 4 or 5 on the Saffir-Simpson Scale).
The predictions serve as a general guide to the overall seasonal hurricane activity, but do not predict where or when any of these storms may form or whether they may impact land.
"The main factors influencing this year's seasonal outlook are the continuing multi-decadal signal (the combination of ocean and atmospheric conditions that have spawned increased hurricane activity since 1995), and the anticipated lingering effects of La Nina," said Gerry Bell, Ph.D., lead seasonal hurricane forecaster at NOAA's Climate Prediction Center. "One of the expected oceanic conditions is a continuation since 1995 of warmer-than-normal temperatures in the eastern tropical Atlantic."
The NOAA's outlook falls in line with predictions issued by the noted Colorado State University hurricane forecasting team in April.