INTRODUCTION

Delaware local legends Jack Powell (left) and Stevie D. (Right). Photo: Martina O'boyle
We all wish we could call up surfboard shaper, Simon Anderson and say, "Mr. Anderson. I need 3 thrusters. A 5'10", 6' and a Step-up board...let's go with a 6'3". Pull in the tail a little bit on that one. And can we go to a deeper double concave on the 5'10" and 6'. I need 2 quads. Lets do a 5'6" @ 2 1/4" thick-19.75' width and a 5'9" @ 2 3/8 thick-19" width." With no major sponsors to help pay for your order, a receipt with shipping is going to run you $4100. This is not a "reality purchase" for 98% of surfers.
When purchasing a surfboard, there are lot of details that you should consider. To begin, if you are going to drop six or seven hundred bucks on a surfboard that could break with one wrong wave, you are gambling with your own hard earned money. Not to mention the fact that there is no guarantee that you will even like how the board works for you. I have listed below some basic questions that you should think about before going to buy a board.
- What shop should I go to and who in that shop do I want to help me find a board?

- What size board and dimensions will suit my needs and do I have the dimensions of my last few boards with me?

- Why do I need a new board? Do you I need a board for logging, high performance, learning, different fin set ups, or a small tweak in dimensions?

- How much money can I afford to spend on a board?

- Where and what type of conditions am I going to surf this board?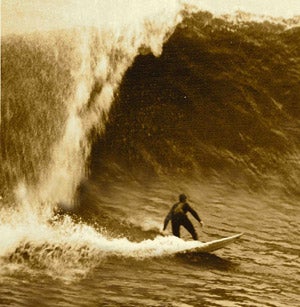 This board to the right is my "Big Day" board. To be honest, I have only surfed it locally (Mid-Atlantic) a few times. Itís a Spyder 6'10" Pin Tail. I don't know the dimensions and don't care. I grab it when the current is ripping and the surf has consequences. I don't care for the dimensions because it doesn't turn well. It paddles fast and it will get me in quick. It's shaped for the North Shore of Oahu, not Delaware. It stays under the half pipe out back and makes me nervous looking at it. When I put it in the back of my truck, I know I am getting a big wave that day.
Used Over New