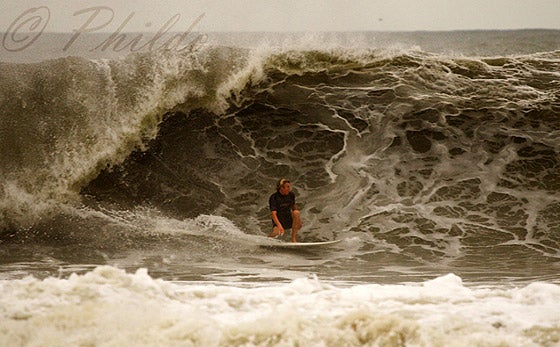 Colin Herlihy, born and raised in Bethany Beach, Delaware grew up bodyboarding and surfing the Delaware and Maryland coastline. His main influence is his Dad, a lifetime longboarder, who took his four-year old son to the beach as much as possible. Colin and his Dad shared the same interest; they went on many surf trips while he was young. Since then, riding waves has become the biggest part of his life.
Colin Herlihy section in MIA - East Coast Bodyboarding Video
Colin "Buck" Herlihy fits right in to southern Delaware's redneck-style living. It has given him other interests such as hunting and fishing (and occasionally country music). His nickname comes from a blue 1986 Cadillac that he would drive around with all his friends listening to old school punk rock. When floored, this Caddy would throw everyone back in their seats as Colin yelled, "She's bucking boys!"
Although it can be very good at times, Delmarva is not known as a powerhouse for surf. This makes it difficult for a surfer or bodyboarder to score a sponsor and make a name for oneself, like Colin Herlihy has.
Colin started riding a bodyboard at 4 years old and a surfboard at 6 years old. This foreshadows his all around skill in the water today. Living in Bethany Beach Colin surfed the jetties, and Southside Indian River Inlet, which is notorious for heaving barrels and shore break. But his frequent trips to Puerto Rico set him apart from the majority of bodyboarders and surfers in the Delmarva area. All throughout high school Colin traveled to Puerto Rico three times a year. This offered him a better variety of waves, like reefs, point breaks, and beach breaks whereas Delmarva only has beach breaks.
Colin running down the beach to his favorite shore break.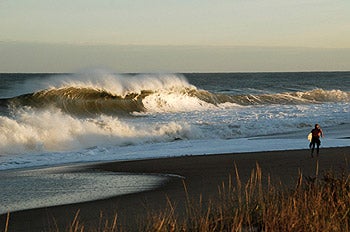 When Colin was 13 he got a sponsorship with Shoreline board shop, a local bodyboard store. The owner got him a sponsorship with Toobs bodyboards, and when Herlihy was 17 years old he got fourth place in the US Amateurs bodyboarding competition. Colin and his friend Eric Simons (another talent to come out of the area) started experimenting with their bodyboards. Since they both liked to drop-knee heavy barreling waves, they began giving their boards a nose rocker. By cutting, gluing and bending, they were revolutionizing the shape of future bodyboards. The bent rocker helped them make it down steeper wave faces while drop-kneeing. Toobs liked the idea, so they came out with a line of "scoop" nosed boards, which turned out to be successful.
When Colin was in Puerto Rico, he got a call from his Dad saying that he was invited to Pipeline for a professional contest. He knew that the ultimate proving grounds for any wave rider was the north shore of Oahu. At this time Colin was using a uniquely shaped board, it was bigger and had more nose rocker than the line that Toobs previously put out. The owner of Toobs said that if he proves that the board works at Pipe then he would make a signature line for him.
Colin doing what he does best - GO BIG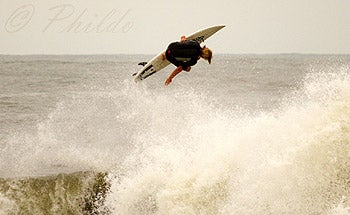 Before the contest, his first time surfing the north shore was pure excitement, on the paddle out at Log Cabins Colin was hyperventilating because he couldn't believe he finally made it to Hawaii. When he rode Pipe for practice prior to the contest, it was about head high. But when it was time for the contest, the surf was a cranking, six to eight foot Hawaiian (that's double over head plus, for the haoles). Getting shoved into an underwater reef cave on his first wave didn't seem to hinder his performance. Herlihy made it to the finals and got third place in the drop-knee final. He caught a wave at Backdoor that he almost came out of; onlookers told him that if he made it out the barrel clean, he would've gotten first in the competition. This was bitter sweet for Colin because he lost to someone whom he really looks up to and eventually became good friends with: Jack Lindholm (drop-knee pioneer). After not being able to sleep because he felt he could've won, Colin took it as an important life lesson; it kept him humble and gave him drive to get better. He has since spent six winters in Oahu. His experiences on the island of Oahu have been pure aloha; he's made great friends that took him in and showed him true Hawaiian love. Because of his phenomenal showing at the Pipe pro, in 2003, Toobs released the signature series board, "Herlihy" with the logo of his nickname, a buck on the front, which has now become Toob's number one selling board.
Colin mostly surfs now, but appreciates all wave riding styles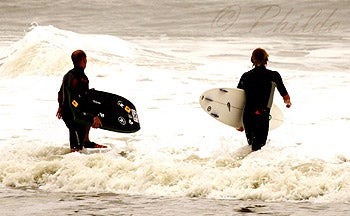 In 2002 A Better Lifestyle Production released a video featuring Colin and bodyboarding's biggest air ever, which happened in the Caribbean when Colin was riding backwash right at set waves and he got launched 30 feet in the air. Bodyboarding magazine ran pictures of his air and dubbed it "the highest air ever!" People in Delaware ride all boards; Colin is a reflection of Delaware wave riding. He has done both his whole life, but as of now his focus is on surfing. He still rides bodyboards and supports the sport but feels he has accomplished all that he wants within the realm of bodyboarding. Colin is experimenting with what stand up boards to ride in different conditions. His surfing has skateboarding and bodyboarding influences but he still focuses on power moves and airs. He is currently making a video demo to send to quicksilver.
Colin appreciates his sponsors (Chauncey's surf shop, Al Merrick, and Toobs) and his family for all of their support. Today, Colin is just as passionate about fishing, which he's been doing a lot lately. He recently received a Marine Science degree at Cape Fear Technical College, and is still working Bethany beach and saving money for his next Hawaii trip.
When asked how he feels about both sports (bodyboarding and surfing) Colin said, "I don't care what anybody rides as long as they have fun."
Colin does it all. Here he is doing a Tow-Out drop-knee air.