There are a few main areas that are popular for surfing in Puerto Rico.
These include San Juan, on the northeast coast, Aguadilla along the northwest corner, and Rincon located on the western coast of Puerto Rico. Each one of these prime surfing areas offers both unique surf breaks and unique perspectives of the Puerto Rican lifestyle.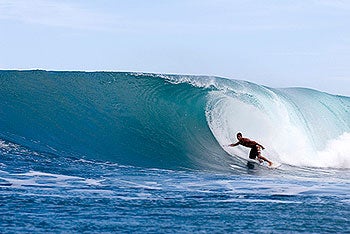 San Juan, the capital of Puerto Rico, is the urban center of the island. San Juan and the rest of the north coast offer the most consistent surf with persistent ENE/NE trade swell, but the trade winds that produce the swell often create choppy conditions for many of the exposed north coast breaks. Getting up early is usually the key to surfing this area in hopes of catching a couple of hours of morning glass. Occasionally, glassy conditions can persist throughout the day, and when these conditions meet up with a solid north swell, then the north coast lights up.
Rincon, on the west coast of Puerto Rico, is arguably the most famous surf town on the island, and has seen an increasing number of US property owners over the past couple decades. What makes Rincon special is it is protected from the Easterly trade winds, and can produce offshore conditions for much of the day. Rincon is a big headland, with SE facing breaks to the south and NE facing breaks to the north. This setup offers a multitude of waves ranging from long point break style rights at Marias that can offer 100 yard rides, to big wave spots like Tres Palmas that can go 30+ft, as well as your average beach breaks like sandy beach. The northern Rincon areas can pick up some NE trade swell, but the SE breaks really come alive on a N or NNW swell. Outside of surf, Rincon is a great little town, with lots of surfer friend restaurants and bars, and plenty of places to stay.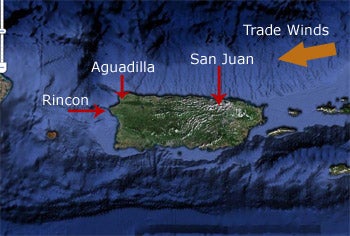 Then, there is the Aguadilla region, which gets the best of both worlds, with both west and north facing breaks on this happening corner of Puerto Rico. While Rincon offers up the point break style waves, Aguadilla has the punchy barrels with breaks such as Middles and Gas Chambers. Aguadilla is less touristy than Rincon and gives you the real flavor of the island.
So what are the most consistent times for traveling to Puerto Rico?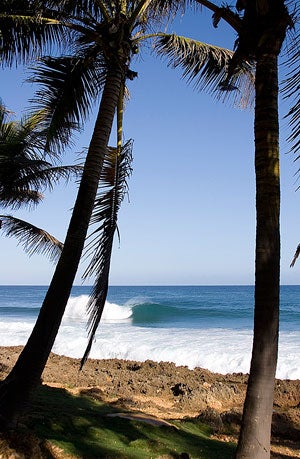 The optimal time to plan a trip to Puerto Rico is the winter time – January through March being most consistent on average. At this time of year you have a better chance of getting long period north swells generated from strong low pressure systems moving off the east coast of the US. These north swells can light up breaks along the entire north, east, and west coasts of Puerto Rico. During the winter, the North coast rarely falls below chest high, and the solid swells usually go 6-8-10ft a few times a month. The Fall and Spring time can offer up excellent surf as well, but are generally less consistent than winter. Summer time is the least consistent time of year and can have long periods of down time, but this can be broken up by solid hurricane swells, especially in August and September.

Do I need a car?
While it is possible to surf in front of a motel in Rincon, transportation is highly recommended! You can have flatness in Rincon, while the north coast of Aguadilla has head high, glassy barrels 40 minutes away. The Puerto Rico coastline has many nooks and crannies, so depending on the wind directions, you can drive to breaks that work for the current wind. It definitely pays to be on top of the winds and swell direction, so just make sure tune into Swellinfo!
Do I need to know Spanish?
While Spanish is the native language of Puerto Rico, you can generally get by very well with English, as many business operations are bilingual.
Where do I fly into?
There are two airports: San Juan International (SJU) and Borinquen (BQN) located right in Aquadilla. Aguadilla will generally be a little more expensive, but will save you a good 2 hour drive if you are heading to the west coast.
Are the reef breaks sketchy?
If you are used to surfing sand bottom breaks, it may take you a little while to get used to surfing the hard bottom reef. Puerto Rico has varying array of reef and sand bottom breaks, and there are plenty of shallow breaks with jagged reef that can turn your surf trip upside down. It is strongly suggested to bring with a medical kit to clean out any reef scrapes and cuts to help prevent infection.
Are there any Puerto Rico web sites to check out?
SurfCaribe.com is great site lead that documents the latest swells with photos, video, and news around the island.
In Puerto Rico, you can surf world-class breaks all along the island and for a fraction of the cost of destinations like Hawaii and with much less crowds. Having a large swell window and being a cheaper alternative to some more common winter retreats is only a couple reasons why Puerto Rico will remain the "Island of Enchantment".
---
Track the upcoming Puerto Rico surf forecast, by following the Puerto Rico forecast links below:
San Juan, Puerto Rico Surf Forecast>
Arecibo, Puerto Rico Surf Forecast>
Aguadilla, Puerto Rico Surf Forecast>
Rincon, Puerto Rico Surf Forecast>
South Coast, Puerto Rico Surf Forecast