It is that time of year, where we can keep our eyes glued to those satellite loops for hopes of tropical development. The Easten Pacific is already on it's fourth tropical storm, while the Tropical Atlantic is just starting to show signs of prosperity.
A strong tropical wave just east of the African Coast is showing indications of organization this morning, and has just been categorized as Tropical Depression 2. Conditions appear favorable for further development of this system over the next several days, and it is likely that this storm will reach tropical storm status and become Tropical Storm Bertha. This is the only tropical depression on record to develop East of 34 degrees longitude this early in the season.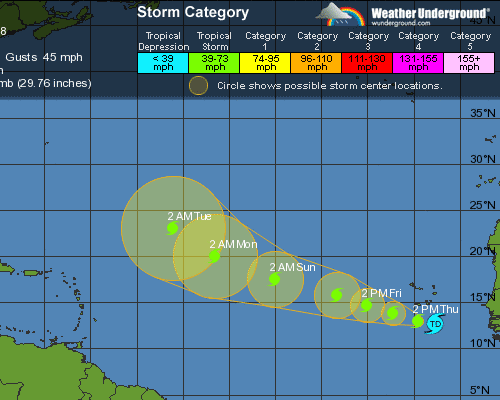 A good way to track swell potential from this storm, is to zoom out to the Swellinfo North Atlantic wave and period maps. You will notice, the model is currently showing SE ground swells arriving during the middle of next week.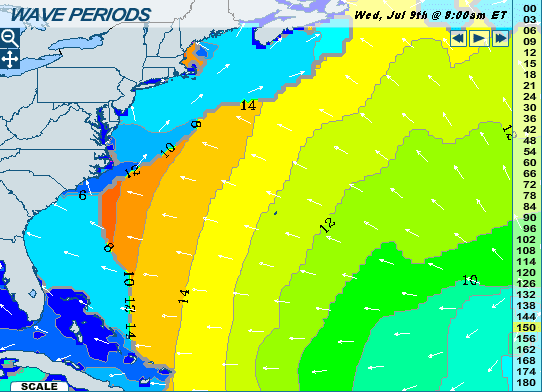 On the other side of the country, the Eastern Pacific has been very active over the past month, however this has not resulted any significant swell production thus far for the US West Coast. TS Boris currently has max sustained winds of 50 mph and looks to gradually dissipate on it's westward track over the next few days as it moves over colder waters. TS Douglas is a minimal Tropical Storm south of the Baja Peninsula and is in the process of degeneration and will likely be downgraded to a depression over the next 24 hours. Elsewhere in the Eastern Pacific, a broad area of low pressure is currently 1270 miles west-southwest off of Baja and is showing some signs of development on its northwest track.
We are currently hard at work putting together the Swellinfo Tropical Center, and we hope to have this live by the end of July.