The Atlantic Hurricane season has shifted into high gear, and is following seasonal trends of increased activity as we head into September. Hurricane Gustav will be entering the Gulf of Mexico waters this weekend, while Tropical Storm Hanna looks to push E/SE swell energy towards the lower half of the East Coast.
Gustav
Below is the forecasted track of Hurricane Gustav.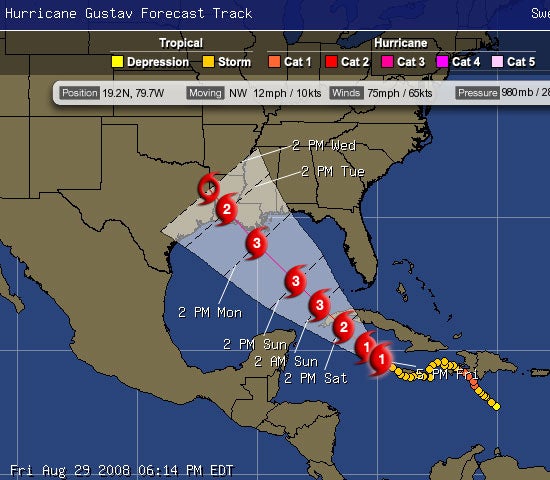 As
Hurricane Gustav
enters the central Gulf of Mexico, significant swells will spread from the west coast of Florida across to Texas. Certain areas along the South Texas coast and the western Florida coast are likely to see large surf and great conditions. Unfortunately, Gustav is likely to be a very dangerous storm as it makes landfall along the central Gulf of Mexico. Keep an eye on the updated Swellinfo forecasts for your local conditions. Text forecasts are updated each morning and evening.
Hanna
Tropical Storm Hanna
has been undergoing some upper level sheer over the past 24 hours, which has maintained her moderate Tropical Storm status. Hanna currently has max sustained winds of 50mph as she moves off WNW, north of the Leeward Islands.
Take a look at the new Swellinfo Hurricane Wave Maps below, to see E/SE fetch develop towards Florida and through the Mid Atlantic. These swells will move into East Coast locations on Monday, and be largest for Florida and the Southeast.
New Hurricane Wave Maps
The new
Hurricane Wave Maps
are based off the Swellinfo Hurricane Model. The Swellinfo Hurricane Model is driven by winds from the GFDL hurricane model. It should be noted that the official National Hurricane Center forecasted track can vary from the GFDL model, and the amount of uncertainty in these tropical forecasts needs to be taken into consideration. When a tropical swell is eminent for an area, the swell data and wave maps on the Swellinfo forecast pages are switched over to the Swellinfo Hurricane Model for that particular area. In any situation, the up to date
Hurricane wave maps
can now be viewed in the
Swellinfo Hurricane Center
.