Bertha has been upgraded to hurricane status this morning as it tracks WNW around 17kts. Hurricane Bertha is currently at category 1 storm, located about 845 miles east of the northern leeward islands, with maximum sustained winds of 75mph. Bertha is a rare storm, as there are not historically too many Hurricane's that develop this early in the Tropical Atlantic season.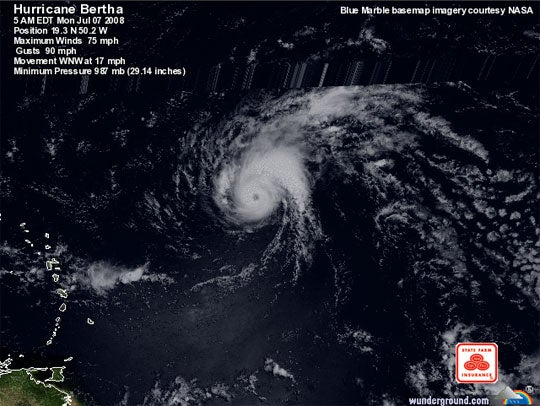 Bertha is a relatively small storm in circumference, which will be a major limiting factor on how much fetch develops towards the East Coast, but none the less, many East Coast beaches will see medium to longer period energy move in by the end of the work week. At this point, it looks like surf from Bertha will stay mainly in the 2-4 ft range, however stand out areas, like the Outer Banks, have the potential to pull in some bigger surf. Much is dependent upon the intensity and track of Bertha over the next several days. Below is the official 5 day forecast track from the National Hurricane Center.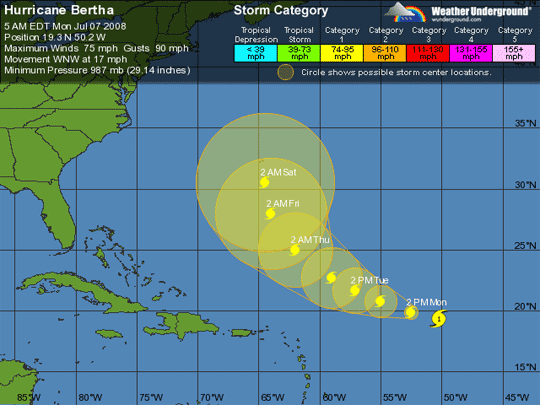 The NHC forecast keeps Bertha as a cat 1 storm through the 5 day forecast as it curves northward towards Bermuda. There is still a fair amount of uncertainly regarding the shear environment and upper level steering currents, so the forecast track and intensity will undoubtedly be adjusted with each 6 hour update.
On Thursday is when we will start to get our best idea of how much swell will be associated with Bertha, as this is when we will start to see the swell energy registering on the East Coast Buoys. With tropical systems, which are much smaller in area then our typical swell producing low pressure systems, the Swellinfo wave model and other regional wave models may not fully incorporate the wind field of the storm. This makes it necessary to keep an eye on those buoys. In general, there is typically an underestimate of wave energy with tropical systems. In any case, Bertha will produce surf for many areas along the East Coast by the end of the work week and into the weekend. We will keep you apprised of any significant developments with Hurricane Bertha.