Thoughts on Irene surf is below, but first things first... Irene is a very large hurricane and is currently a serious threat for coastal areas of North Carolina through the Northeast. Below is the latest forecast path from the National Hurricane Center illustrating the projected path of Irene.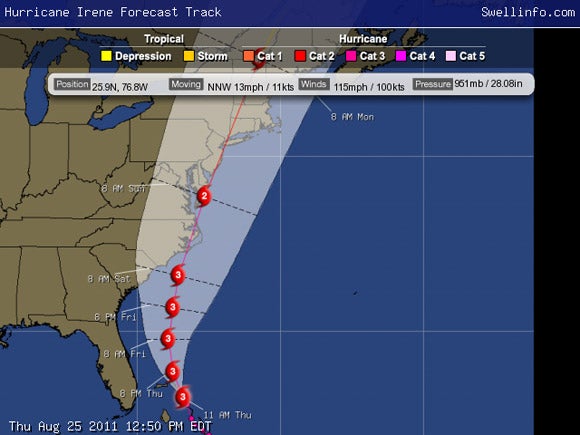 The projected path has shifted west over the last couple of updates, which poses a greater threat for most areas of the northern half of the East Coast.
It is important to listen to your local authorities if evacuations are enforced. This storm has the potential for storm surge, wind damage, power outages, and flooding. Perhaps the greatest threat is for flooding of the coastal areas surrounded by inland bay and river systems. Also of note, is that strong winds and rain will penetrate areas near one hundred miles away from the center of the storm. Those in the path of Irene, should consider preparation options as soon as possible.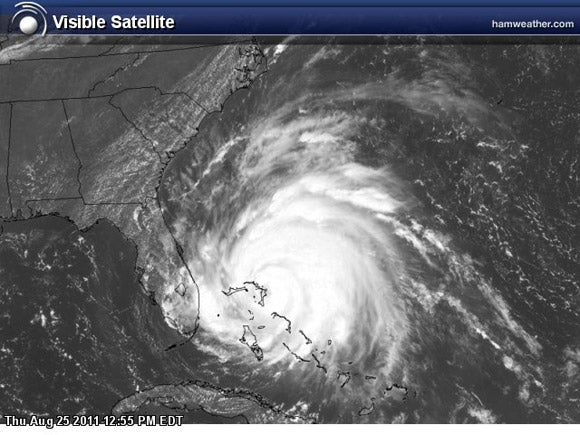 Now, for the reason, you come to Swellinfo, the surf...
The hot spot for Irene swell will be South Florida. While most of the coast gets pounded with SE swell and super strength winds, South Florida will get a solid dose of N swells sneaking into their swell window from the back side of Irene. Stiff westerly winds will groom things up on Friday as the region will be hidden from the Brute force of the storm.
Palm Beach, FL Surf Forecast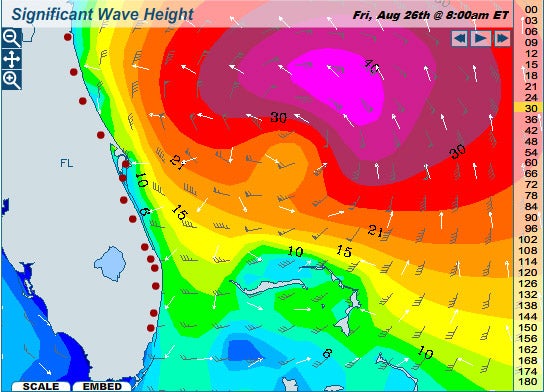 Most areas from Florida through North Carolina are seeing moderate sized E/SE swells today. This will increase and spread northward as Irene approaches. As Irene gets closer to your area, surf will build, but conditions will deteriorate with victory at sea conditions (very rough and choppy). As Irene exits north, the surf will fade quickly as the large fetch of westerly winds knocks down much of the swell energy. Some locales will see good fading surf conditions, but it is important to note that 50+mph offshore winds are not going to be ideal for surfing! You will need to wait for the near shore winds to calm.
Take advantage of the moderate E/SE swells with lighter winds ahead of Irene, and take all necessary precautions as Irene bears down this weekend. This could be a storm to remember - or forget!