New NW swell looks to provide plenty of surf for competition next week
effective: Saturday February 16
Surf heights have dropped off significantly along the North Shore on Saturday morning in the 3-5' range and will continue to fade down on Sunday. The good news is more solid NW ground swell reinforcements are on the way for Monday and and look to hold strong through much of the week.
The next round of NW swells looks to fill in on Monday, but conditions may be hindered by the anticipated light SW winds. The swell looks to peak on Tuesday with offshore swells around 9-10ft @ 14 seconds. The below Swellinfo nearshore wave map for Oahu, shows the NW swells and light easterly winds on Tuesday.
This should be good for some solid 6-8-10 ft surf. Light to moderate trade winds kick back in for the middle to end of the week, which should allow for great conditions and good overhead+ surf through most of the week. The Swellinfo swell plots below shows the NW swell in light blue.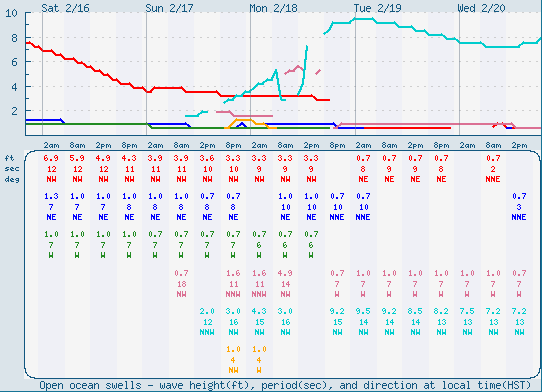 Go to Swellinfo's North Shore, Oahu surf forecast to stay on top of the anticipated surf for next week!
Swellinfo has just launched its Hawaiian Island surf forecasts, which includes high resolution wave modelling for Oahu and Maui! We are still in testing phase, so please feel free to email any comments to: info@swellinfo.com.

Aloha,

Micah Sklut
Swellinfo.com