Kalen, so what is your motivation in bringing a weekly editorial to Swellinfo?
I got the original idea when cruising swellinfo.com and reading the Colin Herlihy write-up a few months ago. After coming across it again last week I thought it would be an awesome idea to provide the Swellinfo visitors a weekly blog to check out, along with the local surf forecast, buoy readings, and the infamous surf forum.
I knew that Swellinfo is constantly working on enhancing the accuracy and layout of the Swellinfo surf forecasts, which ultimately is the main objective, so I was stoked to be given the go ahead to produce a weekly article.
You are the man behind the lens. Does this give you a unique perspective on the surf scene?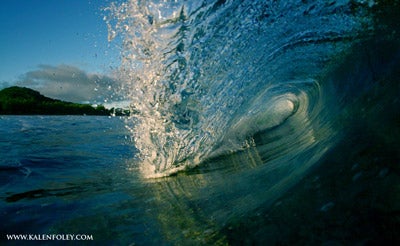 It definitely gives a unique perspective on the scene. You see things as a whole, rather then being in the water and only seeing what is in front of you. Some people say, shooting photos of surfing is easy, whether it be land or from the water. "All you have to do is sit there and click". Those behind the lens know that it is far more demanding then that.
I keep the same logic when I am shooting as when I am surfing. When you role up to your local spot and its pumping, you immediately start to scout the line-up, count the time between sets, and see where you should paddle out. I apply the same ideas when I am shooting - I scour the beach for the perfect set up and I think about how I want to compose the shots. It also depends on what my objective is. If I am shooting a particular rider then I am more concentrated on staying with them, rather then where to set up for a line-up shot. I get fired up when score a sick wave on my board, and I have found the same fire inside when I get "the shot". There is only a few things that even come close to those feelings for me.
What got you hooked on surf photography?
As mentioned above, from the first time I started shooting 5 years ago with a little Canon s410, getting "the shot" made me as stoked as I when I got a sick wave. Being able to document certain days and good times with friends is truly rewarding. However, when I just started shooting I was always so torn between, well do I shoot or do I surf? Depending on the day and where I was, it could go either way. I always tried to do some type of compromising with myself though. I'd surf when the conditions were "okay" and then once the wind comes around or the lighting gets good, its time to paddle in and get "work done". Then a couple years ago I started to submit photos to various magazines and companies and started getting published. I think this is when I became fully hooked. Being able to flip through a magazine and come across a photo that you took and seeing your name there is priceless. For me, getting the shot, is like that massive barrel that spits you out so hard it thins your hair.
While, still young (how old?), you have gotten to do some pretty cool surf trips? What was your most memorable trip?
I like to think I am young, turning 23 this July ("sigh"). Traveling for surf is probably my biggest passion over surf photography. You get to experience a new environment, a new culture, meet new people, and for the most part... surf/shoot incredible waves. I've been very fortunate to travel to the places that I have thus far and each time I travel I am humbled by how well we really do have it here in the states. All of my trips have been a success, even when the surf was not up to expectations. If I had to pick one, I'd say my second time to Puerto Escondido, Mexico in May/June 2006. There was so many different aspects to that trip that I was fully stoked on. Being able to wake up early, walk across the street and shoot pumping surf for a month straight was spoiling. Having 13-15 close friends from up and down the east coast meet there for the trip was insane - such a good time and highly unlikely to ever go down like that again. I think that's what really makes it special, a priceless trip.
What do you think differentiates surfing from other traditional ball sports?
The overall fan base, nationally and internationally, is a clear difference from the two types of sports. Here in the states we have 50 states and approximately 15 are located on surfable coastline. The one thing you Do have in all 50 states is some form of organizational sport, whether its baseball, football, soccer, lacrosse, and so on. Most of those sports we start with at a very young age and is accessible from middle school, high school, college, till you reach amateur and professional leagues. There are just way more people who are familiar with some form of ball sport then they are with surfing and/or especially bodyboarding. In contrast, surfing is not organizational, although there are schools that have surf clubs, but that is stretching the point. If you live at or near the shore surfing, bodyboarding, and other wave riding sports is something that you are aware of, but there's no fee to sign up to surf or bodyboard, there's no league that you have to tryout for. Ultimately surfing or bodyboarding is something you try when you are at the beach, or something you pick up from a family member or friend and you're hooked.
As a Delaware local, away from the epicenter of the Southern California Surf Scene, do you think you can bring a unique view on the surfing industry?
I am looking forward to delivering articles that will be an enjoyment to read. I really want to bring some insight into different aspects of both the surfing and bodyboarding industries. I want to speak to those involved in the industry that you rarely hear from. Being a local on the east coast, I am sure many of us over here can relate to the lack of media coverage, so I am hoping to bring much need east coast coveragge while also being able to write articles that will have a global reach.
It has been reported, that the young teenage pro Hawaiian surfer, Carissa Moore, may be receiving a lucrative sponsorship from Target – the huge department store. What do you think this means to our industry to have this increased corporate involvement?
First off, hats off to Carissa, 16 years old and killing it. She is already signed with two other big name companies, Nike and Red Bull, but then being able to land the final terms in a deal with Target would be insane for her.
As far as what that means for the surf industry, I have mixed feels on it. First you have to think about what is Target's main objective and marketing goals for wanting to sign her. With the economy and business being drastically slow, I think that it's possible for companies to try an expand their market by adding something new, something different, to try and help make a profit, which of course is their main goal. If this deal goes through it could be the very stepping stone needed to propel our industry into unseen heights. You could see more surf related commercials, more money for other sponsorships, more media coverage, more contests and world tours. Having surf gear in department stores nationally would increase the fan base and awareness of surfing ten fold.
There is a downside however, those who like seeing their local surf breaks empty or a thin crowd may not be happy to know that an increase fan base will mean even more people wanting to try surfing. So as with many things in life having corporate involvement will have its ups and downs, but I personally see more upside to this.
There are going to be thousands of daily surfers that will be reading your editorials. The Swellinfo users are from every coastline in the country with lots of diversity. Is there one core idea you want to focus on?
I just want to keep this original. I am really stoked on the opportunity to be doing this on a weekly basis and want to give it everything I have to making it legit.
Are you able to give us a peak at what your first editorial will be? I have a ton of ideas in mind and to give a little insight into what I have in store this is how the month will break down.
Each Friday morning, starting this coming Friday, will begin with an interview, the following week will be a destination report. I will be taking you to Puerto Rico for the first destination report. The following week will be another interview, then wrapping up the month will be the monthly "Trash Picker" where I will compile video reviews, equipment guides/reviews, industry news, and anything else I feel worthy of being part of the trash.
Thanks Kalen - we look forward to reading your weekly articles.
I look forward to reading them too. Lots of proofreading!
- Kalen
kalenfoley.com