Hurricane Katia swell started filtering into East Coast beaches Sunday and Monday. ESE swells are hitting most beaches in the 2-3-4' range. Good news is that Katia swell will be on the rise the next few days and the storm will spare the East Coast from land fall.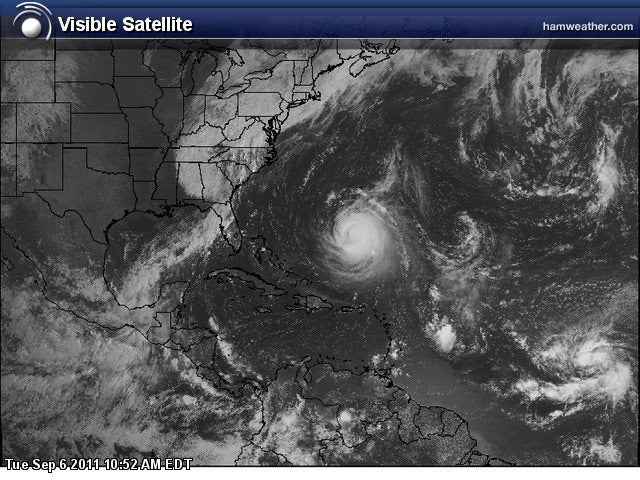 Katia is currently a category 3 hurricane with maximum sustained winds around 120mph. Katia should maintain its strength over the next 24-36 hours as she moves north-west and then gradually lose steam as the storm encounters cooler waters and increased atmospheric wind shear. A frontal system will push off the East Coast during mid-week and eventually turns Katia away from the US.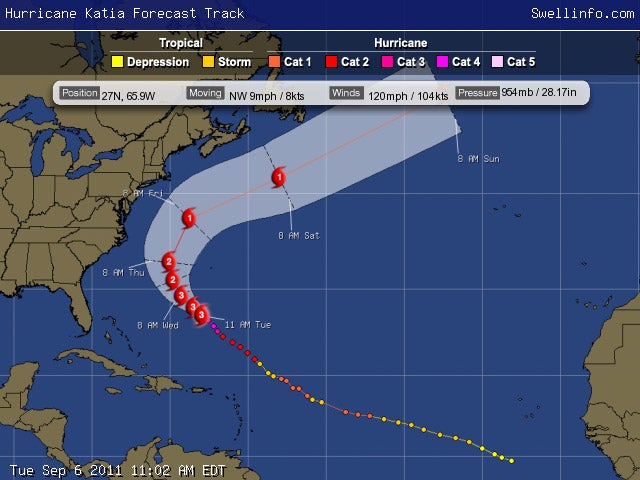 Katia swell will continue to fill in to all east coast exposed areas over the next few days. The Southeast coast will peak on Thursday in the 4-6' range, while most areas in the Northeast will see wave energy from Katia peak on Friday in the overhead high zone. As with most hurricane swells, timing the best surf will be surrounded by the wind conditions. Katia will stay far enough away from land to prevent the storm surf conditions that was seen with Hurricane Irene.
Best Days
It looks like most areas on the East Coast will cash in on some good surf from Katia! Conditions look great for Florida both Wednesday and Thursday, clean up for the Southeast on Thursday, and eventually groom things up for the northern half of the coast on Friday.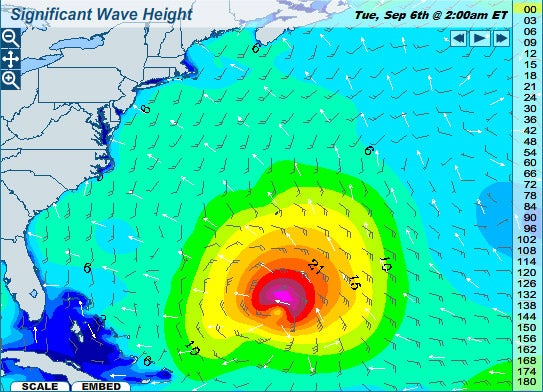 Quiksilver New York Pro
Swell will be on the rise for Long Beach, NY and the World Tour Quiksilver Pro event. The pros are likely to see waves rise into the head high range on Wednesday and then slightly bigger on Thursday. Moderate easterly winds will create sideshore conditions Wednesday and Thursday, and then the wind shifts out of the north on Friday. Early indications are for a killer last day of heats on Friday with 6-8' clean conditions. Below is a wave map of the Northeast showing straight offshore winds and solid swell for Long Island on Friday morning.