Event: NYBB PRO - USBA 2007 Event #3

When: September 5 - 9

Where: Long Beach, New York

Forecast Summary Update: Effective: Tuesday September 5, 2007 9:00am
Today marks the first day of the NYBB Pro waiting period, and it is a no go with 0-1ft surf hitting the western Long Island region. The Long Island Buoy is checking in with a dismal 1.6ft @ 8sec this morning, but there is real hope on the horizon as we monitor a non-tropical area of low pressure hanging off the Southeast coast. This area has changed little since yesterday. Numeric weather models indicate this area will move erratically over the next 24-48hours, before making a N or NW shift where conditions appear favorable for either tropical or sub-tropical intensification.
So, what does this all mean? The surf is expected to be minimal on Thursday, and will likely remain down on Friday. We will have to monitor the low very closely, but as of now model guidance points to an increase in SSE medium period swells beginning to pick up late on Saturday and bulding into the 3-5' range for Sunday. Check the 72 hour Swellinfo East Coast wave map below, which is showing the intensifying low pressure area pointing SSE fetch towards New York.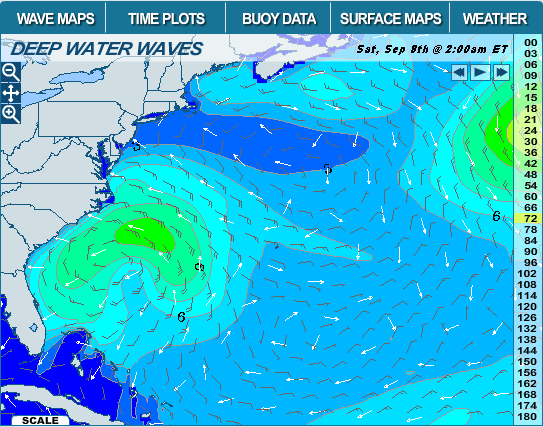 This is a tentative forecast for now, as the storm system has yet to develop. Check back as we will update this forecast every morning and fine tune the forecast over the next few days.
Go to the Long Beach, NY surf forecast page to view the Swellinfo wave maps, swell model output, wind conditions, and more.
Check the Atlantic Beach, New York Surf Report page for the daily surf report
Micah Sklut