WHAT IS A QUIVER
I caught up with Delaware local, Colin Herlihy a couple days ago. Colin has been calling the North Shore of Oahu his home during the winter months for the last few years. With that said, he is a direct correspondent for what is going on in the middle of the Worlds surf emporium and what's up with the quiver these days?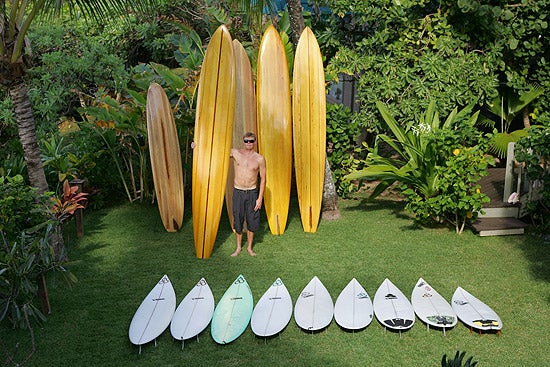 Q: Who are you? What are you riding? How is life treating you in paradise?
A: I am Colin Herlihy. I am 6'0 170 lb. Thank you Hurley, Channel Islands, Toobs Bodyboards, Chaunceys Surf Shop for making life out here possible. Life is good. Thanks for calling me up!
Q: I have seen you ride every type of board possible. What is your "GO TO" working quiver for the East Coast right now?
A: My East Coast Quiver for knee to head high is Channel Island's "The Pod!" (5'8,19 3/4, 2 3/8 swallow tail). When it's head to 1 ft. overhead I grab "The Proton!" (6'1, 18 3/8, 2 3/8 small squash tail). When the rare days of 1 ft overhead to as big as it can get in Delaware arrives, I wax up the "Black Beauty!" (6'3, 18 3/4, 2 1/2 round pintail).
Q: What is up with the hype surrounding Alaia Surfboards
A: I think there is a bright future for Alaia boards for many reasons. First, it's great to see young and old have an interest in the history of surfing. It gives you a great appreciation for the watermen of those times to ride something like that. Do you know how good of shape the Hawaiians and Polynesians were in to be able to tackle the big surf of the pacific on an Alaia board? It's great to see the youths interest in the Alaia's It gives them a newfound appreciation of their thruster and the materials we have at our finger tips. In order to step into the future, you need to take a step back into the past. I think the Alaia's will also make people want to shape their own boards and maybe start a renaissance of the backyard shaper. New wood will be experimented with due to accessibility.
Q: What is your go to board on the North Shore this year?
A: I am a big fan of single fins. I really like the way they work in waves similar to sunset beach, as well as the groins of the east cost. I like the way they feel on a big drop, as well as their unique hold on a bottom turn. Its hard to describe so the best way to understand it is try one! They are also great for small waves as well. They are a great pick if your looking for something loose to surf in the pocket, when its too weak to surf your short board, and you don't want to take out your longboard!

First Time Purchase