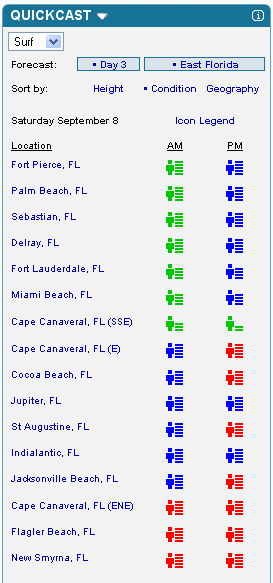 We've added a cool new feature to the forecast pages. Mouse-over the arrow next to Detailed Surf Forecast, and you can now view the Regional Forecasts (5 day forecasts for all locations in a region), as well as the Quickcast tool right in the forecast page. Enjoy!
The Regional forecast, gives you a 5 day summary of all the locations in a specific region, ie. Central Florida. By looking at the bar heights, and the colors you can get a real quick and easy way of comparing the different locations. Using the example to the left, you can see that the forecast is calling for only semi clean conditions on Saturday morning for Cocoa and Indialantic, while Sebastian and Fort Pierce are show clean conditions (green).
The quickcast tool is another cool way of comparing different locations in a region. The quickcast tool lets you sort through the locations based surf, swell, or wind.