This is Yellowstone for surfers, mile after country mile of undeveloped, under-populated, almost-wild coastline that looks pretty much as it did when Cortes was doing his thing. This is not the Mexico of billboards and bars and lobster stands and crowds and congestion and vibes. This is Viejo Mejico almost completely untainted by outside influences. There is almost no tourist infrastructure between Huatalco and Salina Cruz. There are little villages and farms inland, a few roads and some dirt tracks leading to a coastline where nature is large and in charge. This is a stretch of coast to be worshipped and admired but it's not a stretch of coast to be trifled with: not a place for clueless tourists to go bungling around, tearing up the aina.
The biggest element along this stretch of coast is wind. The colder waters of Mexico's Pacific Coast are divided from the warmer waters of the Gulf of Mexico by only 140 miles of land. Air flows from cold to warm, so this coast gets a lot of wind, from all directions and it takes a lot of local knowledge to figure out and turn what most would assume is a liability into an asset. Generally October through March sees such strong Northeast wind that the offshores beat any swell running into perfect ankle-slappers; with April through September receiving lighter variable wind which corresponds with prime south swell season. If one point is sideshore another one is offshore. If one beachbreak is onshore there is a point just around the corner perfectly protected.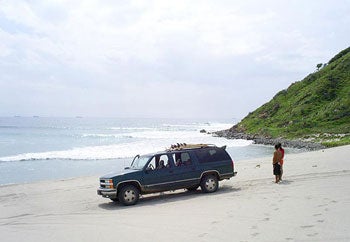 This is a stretch of coast where guides are recommended: when to go to places, how to get to places – what main road to take to the dirt track through the third fence on the left which branches off this way or that and leads to that point firing on a certain tide when the wind is out of whatever. Without giving away too much, there is one surf spot along here that was recently made famous by the ASP. But that is just one of about a dozen points between Huatalco and Salina Cruz, and that's not to mention mile after empty mile of Puerto Escondido-like beachbreak.
There is a small crew of local Mexican surfers from Huatalco and Salina Cruz who have this stretch of coastline wired. Because there is not a lot of surfing pressure here, yet, the local surfers are fairly welcoming. What they don't want to see is a bunch of crazed gringos tearing up the aina going solo in 4WD trucks, leaving gates open, scaring livestock, bringing the kinds of crowds and congestion and vibes that have overrun Puerto Escondido and Cabo San Lucas and other areas of Mexico.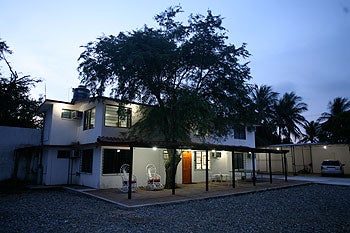 WaterWays Travel has teamed up with Punta Escondida Surf Tours to bring a limited number of surfers to Salina Cruz with comfort, safety, local knowledge and R E S P E C T. Flying into the airport at Huatulco, you will be met at the airport and taken to Base Camp in Salina Cruz. This puts you within 15 minutes to three hours of any point along this coast, and a local surf guide who will eliminate all the guess work and put together the right equation of swell, tide, wind and which dirt road to turn down, which gate to go through.
For more information, contact Waterways Travel.
Website: Waterways.com
Phone: 888-869-SURF
Swellinfo.co now offers surf forecasts for the entire Pacific and Gulf coasts of Mexico. Visit the Salina Cruz Surf Forecast page to check out the upcoming surf!