Hurricane Irene is a strong Category 1 Hurricane this Tuesday afternoon with maximum sustained winds of 90mph approaching the Turks and Caicos Islands. Irene will traverse the entire Bahama Island chain moving north-west over the next couple of days, and is anticipated to strengthen further as it moves over warmer waters. Waves will rise for the entire US East Coast, but safety should be of primary concern for a lot of areas with this system.
Latest NHC forecast for Hurricane Irene: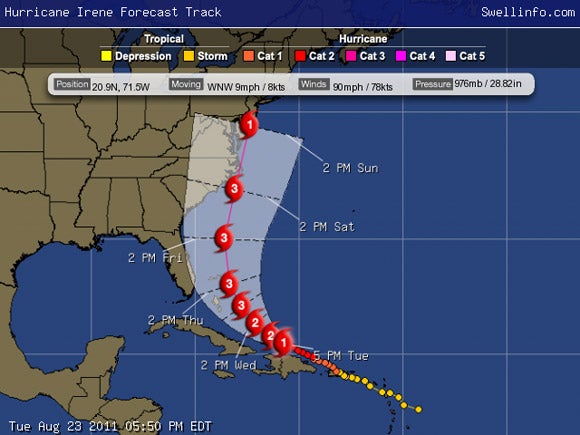 As the storm moves north of the Bahamas it will take a more northerly turn. As of now, most of the computer models have the storm heading towards the eastern edge of coastal North Carolina at Category 3 status (115mph) on Saturday.
Latest Computer Model tracks on Hurricane Irene: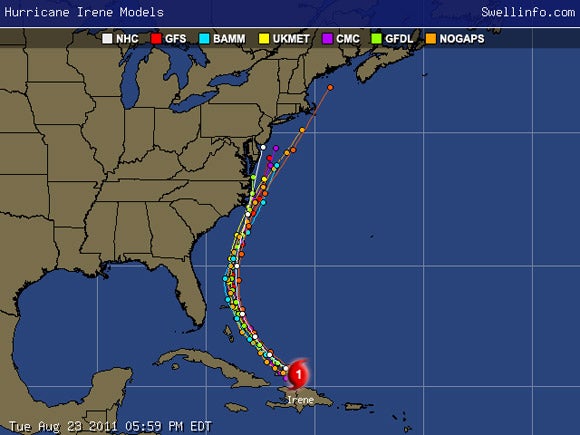 An initial landfall would seem most likely to occur in the Carolinas at this point, but everyone in the Mid Atlantic and Northeast should also consider this storm a potential hazard pending the specific track. A more inland track could pose storm surge threats for both coastal and inland bay areas along with heavy rain and wind. Specific track forecasts for tropical storms 4-5 days out statistically have high error, so it will of course be important to stay on top of Irene from day to day.
As for Surf...
When a large hurricane, such as Irene, tracks very close to the coast it can be very tricky to score good waves. Strong onshore winds will build choppy and rough waves ahead of the storm, and strong offshore winds will blow down the waves as the storm moves away from the coast. The westerly winds behind a large hurricane are so strong that they can literally wipe out the approaching swells (Southerly/Easterly swells). Timing will be critical for most areas as clean Irene conditions aren't likely to hang around too long on the backside of the storm. Prior to the Irene storm surf, smaller long period E/SE swells will begin to filter into most areas Wednesday through Friday, and for some locations this may be the best time to take advantage of Irene with lighter wind conditions.

The surf forecasts will be tweaked as the exact Irene track becomes clearer in the coming days. Stay tuned as Swellinfo forecasts are updated twice per day, and at approximately 6am and 6pm for the US East Coast. Swellinfo Map resources are updated 4 times per day.