If you haven't heard, we have our first Tropical Storm of the Atlantic Hurricane Season. Alex was first declared a Tropical Storm as it approached the Yucatan Peninsula in the Western Caribbean on Saturday. The storm survived the path over land, before emerging into the Gulf of Mexico waters this morning. Alex is expected to strengthen as it moves Northwest over the next few days, and the National Hurricane Center currently predicts the storm to reach Hurricane Status by Tuesday.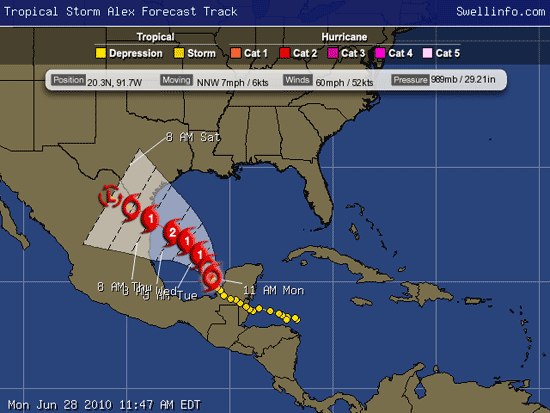 The current path of Tropical Storm Alex puts it near the Texas - Mexico border around Thursday. Such a path will lead to a substantial Southeasterly fetch to the north of the storm and send large, storm surf conditions to most of the Texas coastline. It appears the strongest surf will be seen from Matagorda through Galveston with overhead+ waves likely, albeit with strong onshore winds and choppy conditions. Areas from South Padre Island to Corpus Christi will have better opportunity for cleaning conditions as Alex moves inland. This is, of course, all prone to change depending on the precise track Alex takes.
Florida is likely to see a rise in wave action as well, with a moderate Southeast wind fetch stretching over most of the Gulf of Mexico. The Florida Panhandle beaches with southerly exposure will see the surf rise through the middle of the week, while the Western Florida coastline will stay small scale. Experts predict that Alex will stay far enough away from the Deep Water Horizon Oil leak to cause any major influence, although, there would seem to be some curiosity with regards to how the predicted southeast fetch and current would influence the individual beaches where oil has been visible.
To stay on top of the latest development, check in with the Swellinfo.com Hurricane Tracking Center.