Tropical Storm Dolly is looking to move towards the South Texas coast over the next 24 hours. Dolly, currently has maximum sustained winds of 65mph and is expected to gain a little strength before landfall is anticipated near South Padre Island, TX on Wednesday. The track of Dolly is illustrated below from the Swellinfo Hurricane Center.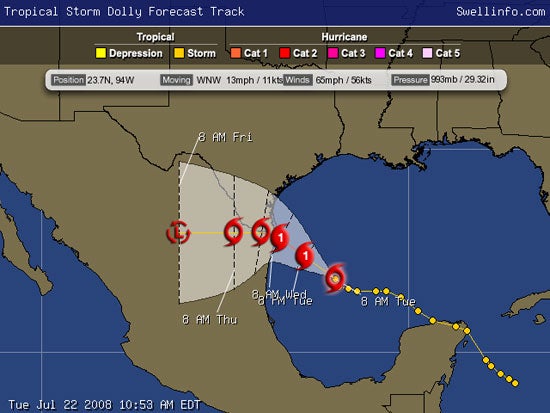 The entire Texas coast will see the surf jump up quickly during today (Tuesday) as strong SE swells move fill in. The surf will reach the overhead zone for many Texas beach by this evening and peak on Wednesday as Dolly makes landfall. Most Texas surf breaks will be maxed out with well overhead surf and Victory At Sea Conditions. Depending on where the center of Dolly makes landfall, there could be a period of offshore winds to the South of the center of Dolly in South Texas. Please be advised that conditions will still remain very chaotic and be very dangerous in this area!
The Florida panhandle is anticipated to see some fun Southerly swells from Dolly over the next 2-3 days, especially as you head west towards Pensacola. Check the Swellinfo detailed surf forecasts for all the details. The Swellinfo Hurricane Center Satellite image shows that Dolly has a healthy circulation, and plenty of fetch to reach the Florida Panhandle beaches.