August marks the climatological month when tropical activity rises, and as if on cue, we are seeing storms in both the Pacific and Atlantic basins with swell producing potential.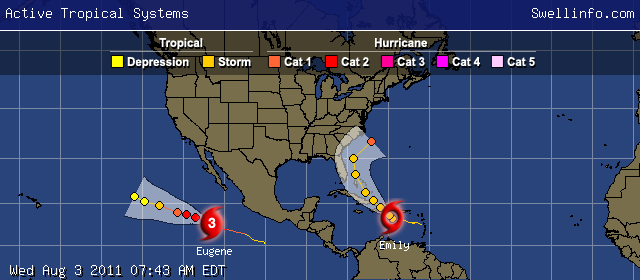 Category 3, Hurricane Eugene, is close to one thousand miles west of Mainland Mexico. As Eugene continues on a WNW track, it will gradually weaken over the next several days as it enters cooler waters. Eugene is currently in the Southern California swell window and will send SSE swells to the southern exposed spots. The SSE swell looks to rise through the day Friday and into Saturday. Southern exposed areas are likely to see 3-4 ft surf with standout spots reaching near head high. Eugene swell will then fade down Sunday.
The Southern California wave map below illustrates how only the south facing areas will be exposed to the SSE Eugene swells.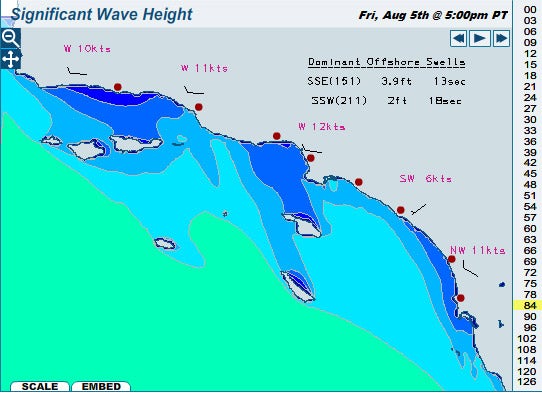 For the Caribbean and East Coast, we are keeping a close eye on Tropical Storm Emily. Emily currently has max sustained winds of 50mph and is approaching the island of Hispaniola. The National Hurricane Center forecasts Emily to track Northwest over Hispaniola on Thursday and then re-emerge in the Atlantic, moving towards the Bahamas.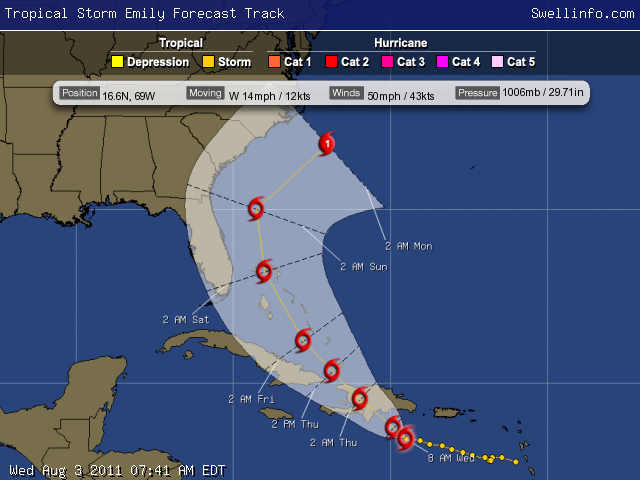 A big uncertainty right now is how the storm will hold up as it moves over the high, rough Terrain in Hispaniola. Current models suggest modest weakening over land, and then re-strengthening as the storm enters the Atlantic. The forecast, at that point, becomes much more uncertain. The National Hurricane Center brings Emily fairly close to the Florida and the Southeast coastline before taking a Northeast shift away from land. Everyone in the Southeast should closely monitor the forecast for updates as the track uncertainty will remain high for the next couple of days.
As for swell potential from Emily. The Caribbean Islands will be mostly sloppy and choppy, and the US East Coast could see some reprieve from the current flat spell. Since there is a great amount of uncertainty in the path of Emily, it is important to note that long range wave forecasts carry this uncertainty as well. This is also exasperated by the close track along land masses, which will shadow certain areas from swell. Please anticipate shifts in wave forecasts after 3 days. As the storm approaches, the shifts in the forecast updates should be less dramatic.
Check the Swellinfo Hurricane Center for the latest updates on Hurricane Eugene and Tropical Storm Emily.