The Tropical Atlantic keeps pumping out storms one after another. This, of course, is exciting news for East Coast surfers, especially since land fall and the hazard potential remains low.
It is not often we have two category 4 hurricanes churning in the Atlantic (Igor and Julia) at the same time. To top things off there is also Tropical Storm Karl approaching the Yucatan Peninsula in Mexico.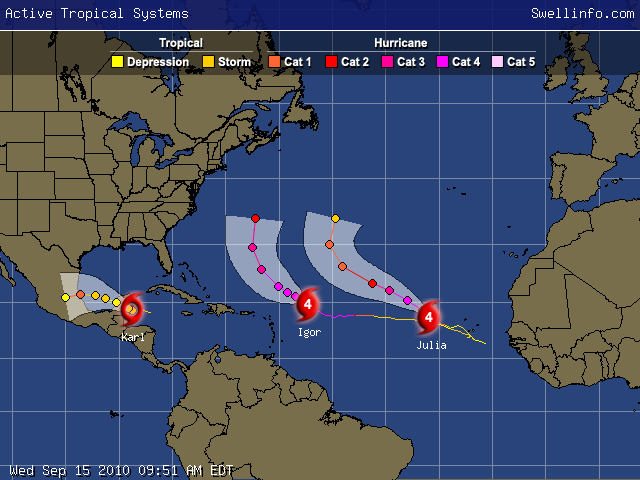 Hurricane Julia underwent rapid intensification overnight and now has maximum sustained winds near 135mph. Julia, however, will likely be insignificant to east coasters, as her swells will go largely unnoticed in the wake of the giant Hurricane Igor, who has a path much more conducive to send solid surf to the East Coast.




Igor will certainly be the big player this week and will send large SE ground swells from Florida through Maine. The surf will be on the rise for most areas late Thursday through Sunday. Of course, the biggest factor in quality surf conditions will certainly be due to the wind conditions. Northerly winds look to move into most areas through the weekend, so the southerly facing areas look to fare best. It is important to note that the precise track Igor takes will be influential on both swell heights and the atmospheric flow influencing the winds at your beach. For this reason, it is important to stay on the top of your local Swellinfo surf forecasts, which are updated twice daily every morning and evening.
Visit the Swellinfo.com Hurricane Center for more information on Hurricane Igor, Hurricane Julia, and Tropical Storm Karl.