Surf Forecast Widgets
Add Swellinfo content to your web page.
Adding the Swellinfo 24 hour surf forecasts and current weather (including buoy data and tides) to your web page is easy. First, choose from several different options of sizes and colors, and then fill out a few form fields below to get the html code to paste into your web page.
Add Swellinfo Wave Maps to your site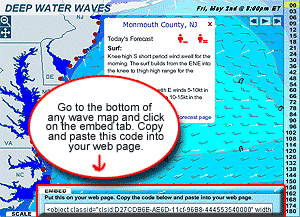 Preview:

Please Fill out the the fields below, and then read the Swellinfo Widget Policy. After accepting the terms of the policy, click on the get code button. Then, copy and paste the html code into your web page.
Your Name:

Web Site (url):

Email address: